One of the biggest challenges every business owner faces is how to send messages to stand out in the midst of email updates, notifications, and promotions bombarding people's inboxes on a daily basis.
According to the latest research, the average open rate for emails has dropped to a dismal 22% and continues to fall every year. This means more than 75% of emails are ignored, leaving a largely untapped audience.
So how do you ensure your message gets through?
That's where SMS marketing or group text messaging comes in.
With an astonishing open rate of 98%, business text messaging has become the number one preferred method of contact among consumers.
Yep, consumers.
So how does SMS marketing work? And how can you send texts from your desktop computer to the masses to grow your business? That's what this article is all about.
Generally speaking, group texts, also known as bulk SMS marketing, are a form of communication that allows businesses to market to the masses with one simple click. Group texting services give you the ability to connect to all sorts of people, all at the same time. As a result, you're able to promote products, share special announcements and offers quickly and easily.
Why Should You Use SMS Marketing?
As previously mentioned, fewer and fewer emails are being opened by consumers. And that trend is not likely to change anytime soon.
On the contrary, recent studies have shown that SMS opening rates are at an all-time high of 98%, thus making SMS marketing an incredibly powerful tool for engaging your audience.
Let's review some of SMS marketing's benefits, and why more and more companies are adopting this form of communication:
Fast Engagement: Click send and your message is sent in a couple of seconds, reaching your audience right away. As a result, your recipients are more likely to read your offer and give it a try.
Global Reach: SMS marketing is the perfect way to reach your audience all around the world without having to spend a fortune doing so. In fact, most modern SMS marketing services are much cheaper than they used to be a few years ago. 
Suitable for All Businesses: Whether you own a small, local delivery company or a big travel agency with satellite offices around the world — SMS marketing allows you to send service reminders, product announcements, and updates to all of your customers. And as your business grows, you can scale up your marketing campaign by simply expanding your contact lists.
Versatility: You can combine SMS marketing with other existing strategies such as social, email and phone marketing. Here's a tip, why not use SMS messages to remind your customers about that important email you sent a few days ago?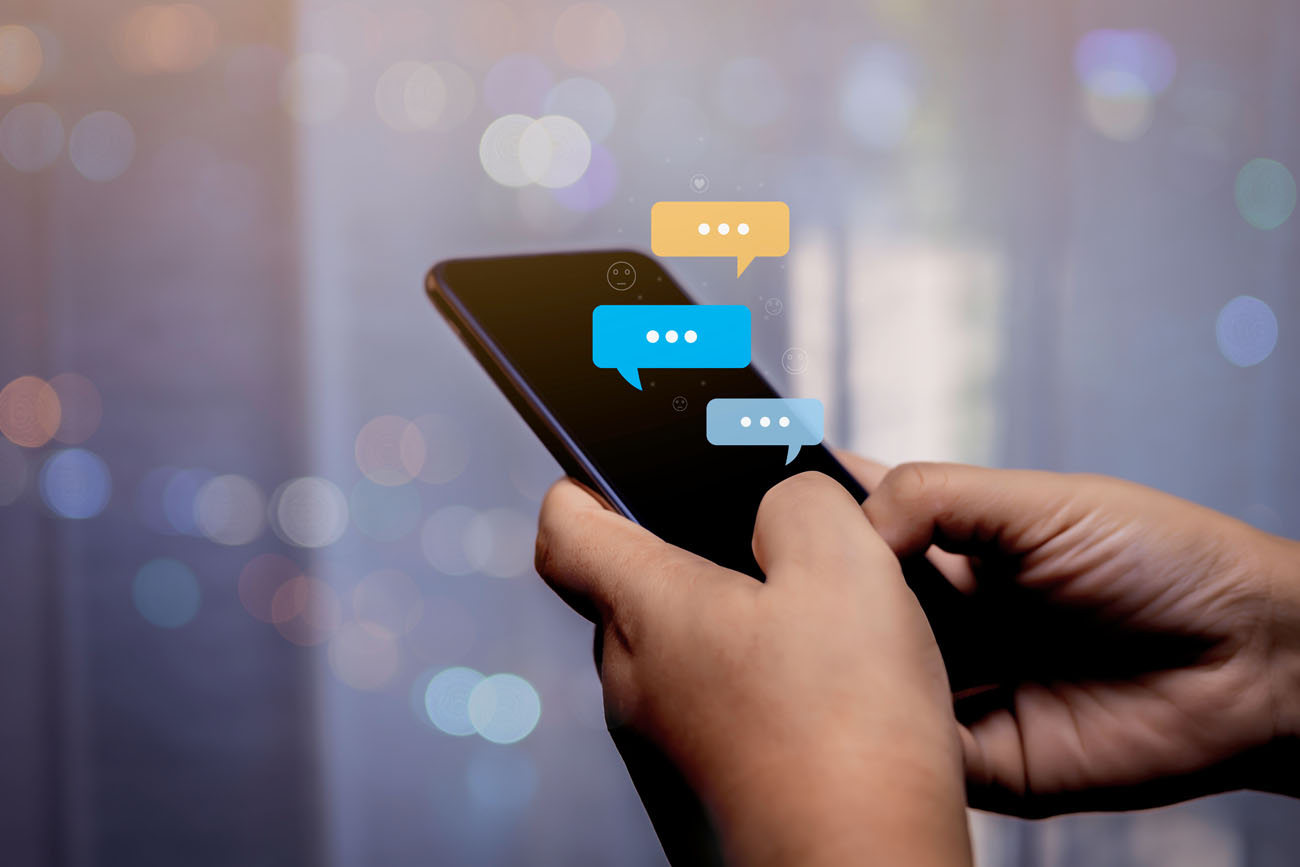 How to Use Group Text Messaging From Your Computer
One big reason for its popularity among businesses is that SMS marketing is surprisingly easy. Once you find the right software, you simply gather your list of contacts, send your message and manage the replies.
1. Finding the Right SMS Software
There are a lot of SMS software options available. And what they include can vary widely. So here's a list of the most important features to look for when buying SMS marketing software:
Accessibility: Who wants to spend hours upon hours learning how to use new software? Nobody. Look for an SMS software that is easy to set up and use.
Price: Even though most SMS software providers use monthly payment models, others prefer to scale their prices based on how many messages you send. Focus your attention on companies that have pay-as-you-go models or low volume minimum requirements.
Integration: Since SMS marketing goes hand in hand with other strategies, you want software that allows for easy integration. For example, besides texting, you might want to automatically send email drips or notification reminders for follow-up calls.
Replies: Depending on your business, you may want to allow your audience to reply to your SMS messages, creating a two-way communication channel. 
2. Build Your Contacts List
Before you start messaging your target audience, you need to have a list of phone numbers. You can populate your list using a variety of ways, including letting subscribers join your text message list from your website or through surveys.
You can also advertise your SMS subscription through social media channels like Instagram, Facebook, or Twitter. Just makes sure to contact only people who have given their contact information voluntarily. Otherwise, you run the risk of bad publicity and losing potential customers.
3. Send Your Messages
The most important rule of SMS marketing is to avoid spamming and annoying potential customers. Keep your messages simple, straightforward, and relevant.
A good rule of thumb is to create a sense of urgency by offering special promotions or reminders using SMS messaging. And if your software allows it, attach pictures, pdfs and emojis to increase engagement.
4. Check the Results
At the end of the day, results are all that matter. Especially when it comes to marketing strategies such as bulk SMS texting. Luckily, most high-quality SMS marketing solutions provide you with statistics such as click-through rates. 
If two-way messaging is part of your marketing strategy, then you'll need to consistently check and quickly reply to your audience. Nobody wants to be left unseen, particularly your current or potential customers. Response time is essential if you want to create engagement and grow your business. So if you don't have the staff to track replies, leave that option out.
Final Thoughts
Bulk SMS marketing strategies are a sure way to increase your reach and attract customers. From low costs to high opening rates, SMS messaging is one of the most effective marketing strategies your business can apply. There are plenty of online resources to help you get started and a good sms software provider should be able to show you how it work with a free demo.
The sooner you give SMS marketing a try, the more customers you will be able to engage.
What are some techniques you've used in your business to generate engagement? Let us know in the comments. And if you have any ideas for future articles, write us at feedback@dyl.com. We're always looking for new ideas!