Customer Relationship Management (CRM) systems have evolved enormously over the past few decades and are now an integral part of both small and large enterprises worldwide. As a key to customer satisfaction, retention, and maintaining efficient customer interaction across all channels, CRM tools are essential for business growth and are easier to implement and use now, more than ever before. In short, CRM helps organizations of all sizes take their digital marketing to the next level.
In this article, we will show you how your organization can benefit from CRM and how you can effectively use it for your digital marketing efforts and business growth. We will also explain what you are missing out on if you have not yet implemented a CRM solution within your organization.
What Is CRM and How Can It Benefit Your Business?
CRM is a software solution for managing relationships with all your potential and existing customers in one place. Initially, CRM systems were designed for contact and sales management, as well as task management tools for agents. But today, CRM can be effectively used for all stages of a client's life cycle, including acquisition, customer support, marketing, retention, digital commerce, and more.
Modern CRM solutions also help facilitate the relationship and teamwork between your own employees. They contain all the information any given team might need, allowing for efficient collaboration and an increase in productivity. CRM allows you to define and streamline workflows, optimize processes, and keep both internal and external communications in check.
CRM systems can be used by any organization and team — marketing, sales, customer service, business development, even recruitment. At its core, CRM gives you the ability to collect and store client information, interaction history, sales opportunities, issues and complaints, and marketing data all in one place. And with cloud-based CRM, all this information is readily available to anyone in the company who might have a use for it.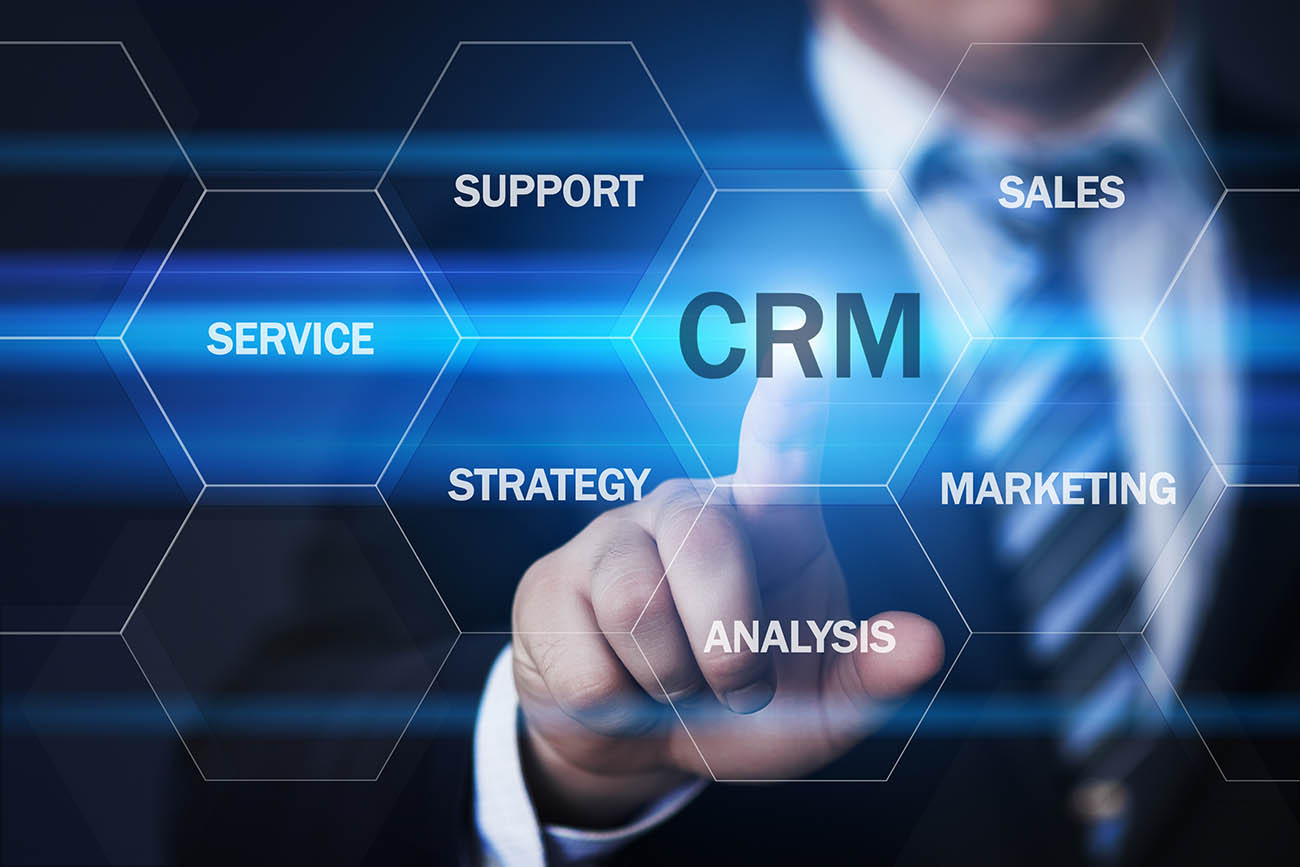 The Role of CRM in Digital Marketing
The abundance of real-time information contained in a CRM system can be invaluable for your organization's digital marketing efforts. For example, most modern CRM platforms actually have integrated marketing tools such as email automation, campaign management and analytics. Additionally, many CRM platforms can be integrated with other marketing tools to ensure that information is shared among all platforms.
Let's take a look at some specific examples of how CRM can be beneficial for your digital marketing campaigns and planning.
1. Using Data for Effective Targeting
The contact information stored in your CRM system can be used to make highly targeted lists for your digital marketing campaigns. Segmenting your current contact lists can create a perfect audience for an email campaign focused on product marketing, upselling, promotions, engagement, brand reinforcement, and more. You can also use CRM data for retargeting and re-marketing campaigns on platforms such as Google, Facebook, and LinkedIn.
A smart way to utilize your CRM contacts database for great digital marketing is to use it to generate lookalike audiences on Facebook Ads and LinkedIn Ads. The platforms' algorithms will show your ads to people with similar interests to those you already have. This way, you can increase both your brand awareness and lead generation exponentially.
2. Knowing Your Audience
Good digital marketing relies on knowing who your audience is and what their particular needs are. Crafting effective messaging and developing detailed buyer personas are key to business growth. CRM systems are especially useful for those purposes, as the data contained within gives an objective overview of the people interested in your products and services.
Of course, CRM data is in no way conclusive — it all depends on the manner in which the system is maintained and updated. However, it can be the perfect starting point for your marketing team to understand where your leads and potential customers are. With this information, fine-tuning your pitches, customer experiences, and messaging becomes easy and effective to execute.
3. Advanced Reporting and Measurement
Having a better understanding of your audience allows you to create in-depth reports and measure your performance in an optimal way. Sales and marketing are strongly dependent on actionable insights based on reports and CRM systems are priceless when it comes to providing the data you need. For example, data on customer behavior, purchasing decisions, and brand loyalty are essential to both short and long-term planning for marketing campaigns.
4. Goal and KPI Tracking
No matter the industry or size of your business, you need to establish Key Performance Indicators (KPI) and objectives in order to adequately set goals and measure success. For digital marketing professionals, typical KPIs include website visits, email audience growth rate, qualified leads, conversions, and the like. With CRM software, you can easily track your goals and see how your overall marketing strategy is doing.
CRM is especially useful for evaluating and measuring the quality of leads your marketing campaigns are generating and tracking where the leads are along the buyer's journey. Also, you can take advantage of the various functionalities CRM software offers to better document any information about the lead and how they have interacted with your business.
"Good digital marketing relies on knowing who your audience is and what their particular needs are. CRM systems are especially useful for those purposes."
Advantages of Using CRM
CRM platforms offer a lot of benefits to businesses of all scopes and sizes. By using such software solutions, you can exponentially grow your business and increase the quality of your customer service, marketing, and operational processes. Here are some specific advantages your organization will enjoy while using CRM.
A CRM system provides you and your employees with an overview of your customer base and leads. You have access to all information regarding a client in one place — their purchases, interactions, complaints, emails received, cross-selling opportunities, etc. A study found that 74% of CRM users agreed the software provided them with better access to customer data, while another one showed that 47% of CRM users said customer satisfaction and retention were noticeably improved because of the system.
CRM platforms offer valuable insights into your customers' buyer journeys and how they interact with your business. Using such software allows you to streamline and optimize your sales, lead generation, and customer support funnels.
With a growing customer base, you might find it difficult to define and manage your communication efforts with both existing and potential customers. A CRM system will drastically improve your customer relationship strategies and result in higher customer satisfaction.
Disadvantages of Not Using CRM
Below are some of the problems you will face if you are not using a CRM platform as part of your business process.
Today's customers can contact your business in a variety of ways — emails, phone calls, social media, website contact forms, etc. Much of this information can be lost or not taken into account when managing your everyday work. With a CRM system, all client interactions are stored and accessible in one platform, ensuring all your communication is in order.
As mentioned earlier, effective sales and marketing decisions are always based on in-depth insights and data analysis. Without a CRM system, it will not be possible for you to have all the needed data in one place and analyze it in an optimal way.
Time spent on administrative tasks means less time for everything else. You and your managerial staff might have a hard time tracking everything your employees are doing. This could result in performance loss, inefficient customer service, and ultimately, loss of business.
Final Word
CRM platforms are already widely used in a variety of industries and are pretty much a requirement if you want your business to succeed and grow. Likewise, a customer-centric approach is essential in today's business environment and CRM helps you plan and execute that.
How do you currently manage your customer data and employee activity? Let us know in the comments. And if you have any ideas for future articles, write us at feedback@dyl.com. We're always looking for new ideas!